EMBRYONIC LANDSCAPES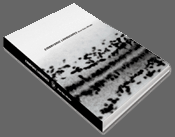 English and Spanish editions
85 photographs and 23 texts
Published by ACTAR, 2001

ACTAR
Roca i Batlle 2
08023 Barcelona
Tel +34 93 418 77 59
Fax +34 93 418 67 07
email: info@actar-mail.com
http://www.actar.es

Distributed in the U.S.A. through D.A.P.

"Embryonic Landscapes is Ariel Ruiz i Altaba's remarkable, surprising, intelligent and deeply moving photographic collection produced over the last fifteen years of his career as scientist and photographer. In these images he has captured the essence and external forms of developing embryos and embryonic forms in photographs that recall a recapitulation of art history: From the walls of Lascaux, to arid African landscapes, goyesque images and the paintings of Motherwell, Pollock and Miró.
In an era when the secrets of the human genome are beginning to be unraveled, Embryonic Landscapes presents images revealing critical morphologies and molecular patterns of gene expression in different species that share common developmental mechanisms with man, making of this work an introspective exploration of our very essence. But far from being documents from a scientific point of view, the images in Embryonic Landscapes were composed for their aesthetic value. The solid scientific knowledge combined with the tense sense of aesthetics with which he approaches the subjects conveys reverence and awe. And yet every image reveals the possibilities of worlds at different scales in which the raising of questions is the aim rather than the search of suitable answers.
Embryonic Landscapes also presents original essays by active scientists, painters, photographers, writers and philosophers. These texts address questions concerning the photographs themselves, the similarities and differences of art and science, the metaphors and realities of the photographic image, the individuality of the artist versus the anonymity of the scientist, the poetry of embryogenesis and the aesthetics of development through a literary approach among other subjects. Thus, this is as much a book about Nature as it is about us".
With the collaboration of John Berger, Lewis Wolpert, Joan Fontcuberta, Alain Prochiantz, Lennart Philipson, Víctor Molina, Kate Breakey, Cristian Ruiz i Altaba, Deborah Treisman, Carter Hodgkin, Tracy Handel, , Eulàlia Bosch, Tamara Gurbis, Antonio García-Bellido, David Kimelman, Dolors Altaba-Artal, Xavier Rubert de Ventós, Elena Alvarez-Buylla, Jon Weider, Cécile Gulbert, Jessica Treisman, William Vollmann and Lawrence Weschler.